KOSTAS PAPADAKIS
The womb that gives birth to corruption centered on the European Parliament is the EU of capital itself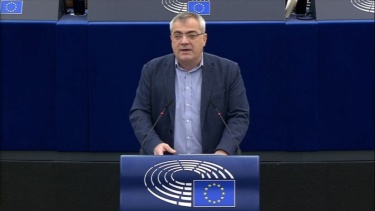 The MEPs of the Communist Party of Greece (KKE) intervened in the "suspicions of corruption from Qatar" debate in the plenary session of the European Parliament in Strasbourg. In his speech, Kostas Papadakis, MEP of the KKE, stressed the following:
"The womb that gives birth to corruption centered on the European Parliament is the EU of capital itself. It is in this context that the bribery scandal involving Kaili and other former and current MEPs took place.
Your resolution to whitewash Qatar was adopted without even a roll-call vote. The EU, the People's Party and the Social Democrats, standing over the thousands of dead bodies of workers of the sweatshops in Qatar, talked about 'exemplary labour reforms', with the head of the employer-led International Trade Union Confederation' (ITUC), who is also being persecuted, as an advocate.
The Qatari capitalists, who were 'strategic partners' for the EU's 'alternative energy sufficiency' and were enjoying VISA liberalization until yesterday, have now become 'an authoritarian regime attacking European democracy'.
Those who pretend to have now discovered the lobbies, which play a leading role in this morass together with suspicious NGOs and the bespoke resolutions of the Subcommittee on Human Rights, are peddling illusions about transparency, 'good' lobbies, and 'codes of conduct'.
The peoples need to draw conclusions. They must not place trust in the EU and the decayed capitalist system it serves; they cannot be fixed but only be overthrown by the peoples' struggle."
14.12.2022