The "Madrid Declaration" is dangerous for the peoples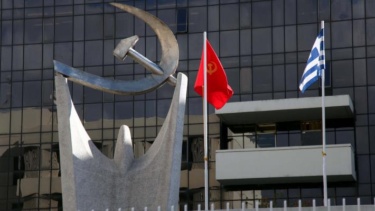 The signature of the Prime Minister, A. Tsipras, on the "Madrid Declaration" issued by the leaders of the states of the South of the European Union, which was signed on Monday 10th of April 2017 and provides complete cover to the US missile attack on Syria, demonstrates in the most characteristic way the determination of the Greek government to support dangerous imperialist plans in order serve the efforts of the geo-strategic upgrading of Greek capital.
France, Italy, Spain, Portugal, Malta, Greece and Cyprus through this Declaration have adopted and legitimized the pretexts used for such interventions and provide complete cover for the US offensive, which is further escalating the imperialist confrontation in the region, arguing that it "had the understandable intention to prevent and deter the spread and use of chemical weapons.."!
The Declaration supports the further militarization of the EU, mentioning amongst other things that the governments of the countries of the South, representatives of capital support the conclusions of the European Council, "enhancing the EU's strategic autonomy and its capacity to act, becoming more involved in the protection of Europe and its citizens, sharing more responsibilities with NATO."!  
COMMUNIST PARTY OF GREECE
The government has no hesitation in supporting the imperialist plans
The Press Office of the CC of the KKE stresses the following in relation to the government's stance on the US attacks in Syria:
"After inviting NATO into the Aegean, supporting all the aggressive decisions of NATO, after the discussions with US ministers about expanding their military bases in Greece, the government has a taken a further step. By signing the Joint Statement of the Summit of the countries of the south, it provides full cover to and characterizes as "understandable" the imperialist attack of the USA against Syria, which adds fuel to the fire of the antagonisms, with dangerous consequences for the peoples of the region.
It has been demonstrated that the SYRIZA-ANEL government has no hesitations when it comes to supporting the dangerous imperialist plans in order to serve the geo-strategic enhancement of Greek capital, which is seeking a share of the war plunder."