Statement by Dimitris Koutsoumbas, GS of the CC of the KKE on the catastrophic earthquake that hit Turkey and Syria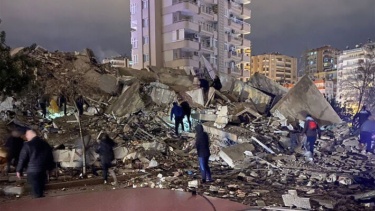 We express our full solidarity with the peoples of Turkey and Syria, who currently need urgent and coordinated international aid to rescue the missing persons and provide effective support to the peopleaffected by the earthquake. We extend our heartfelt condolences to the families of the victims and our wishes for a speedy recovery to the injured.
It is once again demonstrated that despite the development of science and technology, and the great potential of our era for the protection of human life, all this is sacrificed on the altar of profits, big interests, military armaments and imperialist wars, for which the peoples pay dearly in every way.
Above all, it is proven that there is nothing that divides the peoples; on the contrary, they share the same sufferings and problems. That is why they must be united by the joint struggle against the system of exploitation and barbarity.
ATHENS 06/02/2023
THE PRESS OFFICE OF THE CC OF THE KKE